Roof Cleaning Southwest Ranches Is Easy and Affordable!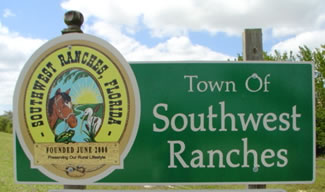 Southwest Ranches, FL is characterized by horse ranches, rural living and friendly, welcoming residents. However, despite its small town feel, the neighborhoods here are flooded with quaint, beautiful homes. Is it time for you to give your beloved residence an upgrade? If you're looking for roof cleaning services in the area, get in contact with Fiddler Roof Cleaning today.
A lot of people fail to realize that having a roof that's tainted by mold and mildew can lead to health hazards and extremely pricy roof repairs as well. By hiring a roof cleaning Southwest Ranches company like us, you will free your roof of the grime and unsightly marks while doing preventative maintenance that can save you tons of money when it's all said and done. By using Eco Roof™, a time released cleaner that's free of all dangerous chemicals, we are able to keep your roof looking strong and healthy for months to come. We will even throw in a full 2-year warranty to expedite your thought process even more ( * restrictions apply ).
Roof Cleaning Southwest Ranches Doesn't Have to be Tough on You
Just take a second and imagine how difficult it would be if you had to clean your roof on your own? Even the thoughts of climbing a ladder and scrubbing the shingles on a warm summer day are enough to make you feel exhausted. That's why you should leave the roof cleaning Southwest Ranches services to the professionals. All of our hardworking employees are trained to handle everything from gutter cleaning and sealing pavers to power washing and roof repairs. So regardless of whether your driveway is dirty and demands power washing services or you just want to make your roof look like new again, pick up the phone and give us a call today.
Now that you've found us, there's absolutely no need for you to stress over your roof cleaning Southwest Ranches needs. With an industry leading Customer Service Department and some of the most dedicated professionals in the field, we have all of the tools needed to brighten and clean the exterior of your home in a heartbeat. Choose Fiddler Roof Cleaning!