Roof Cleaning Davie Is Always Affordable When You Choose Us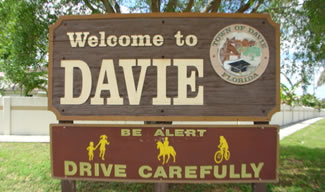 Davie continues to be one of the more well-versed cities in Broward County. On one hand, it is a family oriented area with quiet neighborhoods and a low-cost of living. On another hand, it is an exciting college-town that's home to the likes of Nova Southeastern University and Broward College. If you're looking for roof cleaning Davie services, rely on a company that's just as multi faceted as the city itself. At Fiddler Roof Cleaning, we have the ability to free your roof of all dirt and mold without causing any additional damage.
Instead of just telling you what we plan to do, we will explain exactly how our roof cleaning Davie team will be able to improve the outlook of your home. In essence, it is a simple two-step process. First we will apply Eco Roof™, this is a powerful cleaner that will penetrate through the grime on your roof without causing any harm to the environment. Next, we will use a proven low pressure cleaning technique that will target problem areas on your roof without removing shingles or hurting your roof in any way.
Roof Cleaning Davie Professionals Are Standing By to Help You Out Now
After cleaning your roof, we can also clean your gutters and sidewalks as well thanks to our power washing experts. When most people think about power washing, they envision high pressure water and aggressive cleaning. However, this approach can chip your driveway and be counterproductive. That's why our employees are taught to take a gentle yet effective approach. By using state-of-the-art equipment and innovative cleaning products, the exterior of your home will look spectacular by the time we are done.
If you've procrastinated enough, call and take advantage of our roof cleaning Davie expertise. We will give you a 2 year warranty ( * restrictions apply ) to put your mind at ease and our employees will exhibit the tireless work ethic that has made our company so reputable over the years. Our dedicated staff will listen to your requests, give you affordable rates and do whatever it takes to leave you smiling as a satisfied customer.