Roof Cleaning Lantana Should Always Start With Fiddler Roof Cleaning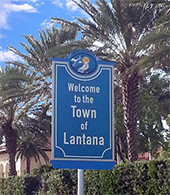 Located in Palm Beach County, Lantana is a coastal town that offers all of the perks that the area is known for. But in addition to the sun, sand and sea that often draws people in, the tight knit community and attractive homes make the area even more appealing. If it's time for you to make some changes for the better to your Lantana home, check out the stellar roof cleaning services at Fiddler Roof Cleaning. We are proud to be the roof cleaning Lantana company that has the affordable pricing and talented employees that you need to brighten your roof once and for all.
When you choose Fiddler Roof Cleaning, you will connect with a crew of well-trained professionals who will give you the most bang for your buck. We know that from your viewpoint, the dark spots on your roof may be nothing more than an accumulation of dirt and dust. However, with years of practice in the roof cleaning business, we know that unsightly streaks on your roof can be harmful algae, mold and mildew. In essence, these are the things that can case excessive damage to your roof and even make your family sick. Stick with us as we go in depth on exactly how we plan to make your roof look like new again.
Roof Cleaning Lantana Crews Won't Compete With Fiddler Roof Cleaning
At Fiddler Roof Cleaning, we are the professionals who will take excellent care of your roof. By using Eco Roof, our unique cleaning solution, we are able to get your roof remarkably clean without causing any damage to the environment in the process. Many people think that environmentally-friendly cleaners lack the punching power to really rid a roof of harmful dirt and algae. Well, with Eco Roof, this is not the case. By combining this potent yet safe solution with a proven low pressure technique, we will clean your roof the right way without causing any additional damage whatsoever. It's time that you make the right decision and get your roof cleaned once and for all.
While our roof cleaning Lantana services are elite, we take pride in being one of the more versatile companies on the market. Are you in need of a crew that can handle jobs based on sealing pavers and cleaning sidewalks? If so, you will love the power washing professionals in our company. Or maybe you are in need of gutter cleaning help and you can't find a company to take care of it for you. If that's the case, look no further than Fiddler Roof Cleaning. With our companion of affordable rates, a comprehensive 2-year warranty ( * restrictions apply ) on all roof cleaning services and a preventative maintenance plan that will keep your roof looking string and healthy, there's no reason why you shouldn't contact us today!