Roof Cleaning Deerfield Beach Is A Breeze Thanks to Us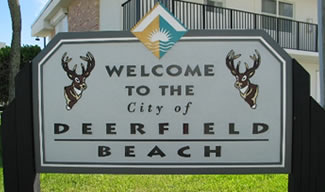 Deerfield Beach is a unique city with a welcoming feel and a booming business district. As part of this flourishing environment, it's understandable that you want your home to be as beautiful as possible. After working so hard, there's no reason why a dirty roof should diminish the value and appeal of your home. Thankfully, Fiddler Roof Cleaning has the solution that you've been waiting for. Regardless of whether your roof is made of asphalt, tile or any other material, we are the roof cleaning Deerfield Beach professionals who will make it look like new again. While some roof cleaning Deerfield Beach companies may attempt to aggressively spray your roof with substances until the dirt disappears, we will do things a tad bit differently.
There's no denying the fact that your roof takes a beating over time. Between changing weather conditions and all of the mold and mildew that can accumulate, cleaning your roof should be a delicate process. Our employees are coached and trained to use a low pressure technique that will get your roof spotless without causing any additional damage to your materials. By using Eco Roof™, a time-released cleaning solution with no harmful chemicals, we ensure that your paint job and lawn won't be damaged and initiate a system that will keep your roof strong and healthy for many months to come. If you need even more convincing, we will give you a stellar 2 year warranty to put your mind at ease ( * restrictions apply ).
Roof Cleaning Deerfield Beach Shouldn't Be Complicated!
When you get in touch with us, our friendly staff will explain just how versatile we are. Our employees specialize in everything from roof cleaning and sealing pavers to gutter cleaning and power washing. We always aim to get rid of all dirt, mold and algae while preserving your driveways and sidewalks at the same time. That's why we will use a low pressure technique that won't cause damage and environmentally friendly, time-released cleaners that will keep working weeks after we leave your residence. We are the roof cleaning Deerfield Beach team that doesn't only believe in getting your roof clean, we take the steps to keep it clean as well.